Tuesday, October 26, 2010
Tuesday, October 19, 2010
I had a bridal session with Ariane Hadida and I wish desperately that I could post images of her in her dress. But I will wait until after the wedding. She looked AMAZING. They are getting married October 30. I can't wait!
Sunday, October 17, 2010
I photographed these girls when they were newborns. They are twins. Now they are three. I feel so blessed to have repeat customers. Their mother Maya hired me again to photograph a Christmas portrait. I've had the privilege to get a glimpse into their lives over the years since they were born. I love it because I get to see how they are doing. What's new. I get to observe their growth and development. So today, we needed one, only one good shot for their Christmas card. I had a total blast trying to get this for them. Well, it was fun for me anyway. I'm not so sure it was fun for Maya as she got mauled and poked and was forced to pick-up and carry at least one daughter at all times. And did I mention that they wouldn't listen to us? They had their very own agenda that was uniquely three.
So here is an attempt to take a picture. The arm went up and she was hiding from me.
But I could take one of her cow.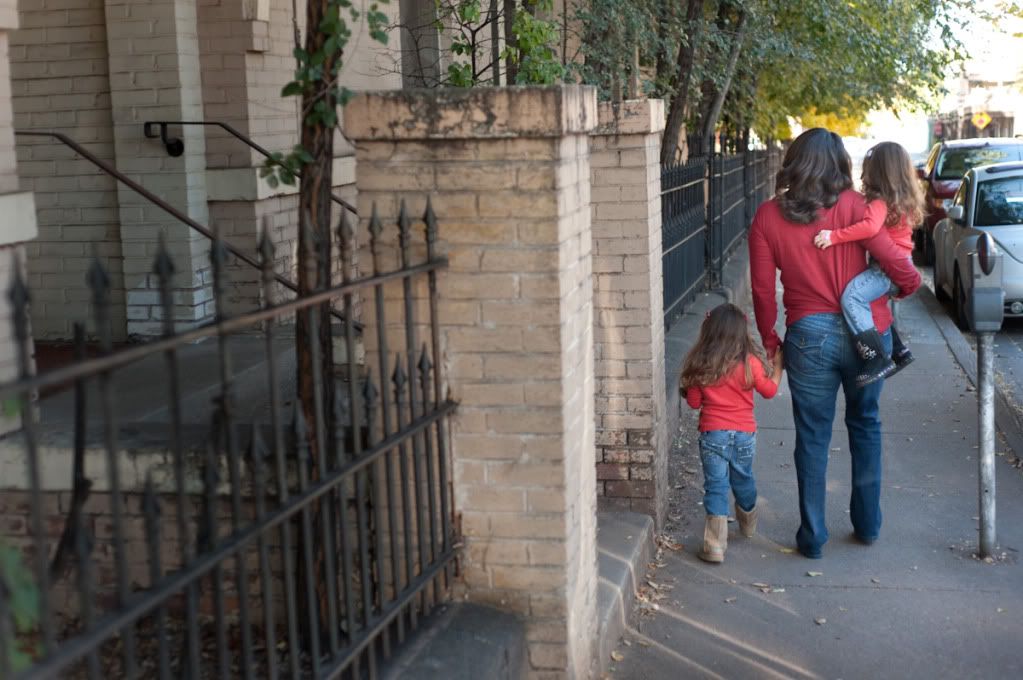 Walking to the park. One daughter on the right hip, one daughter on the left hand.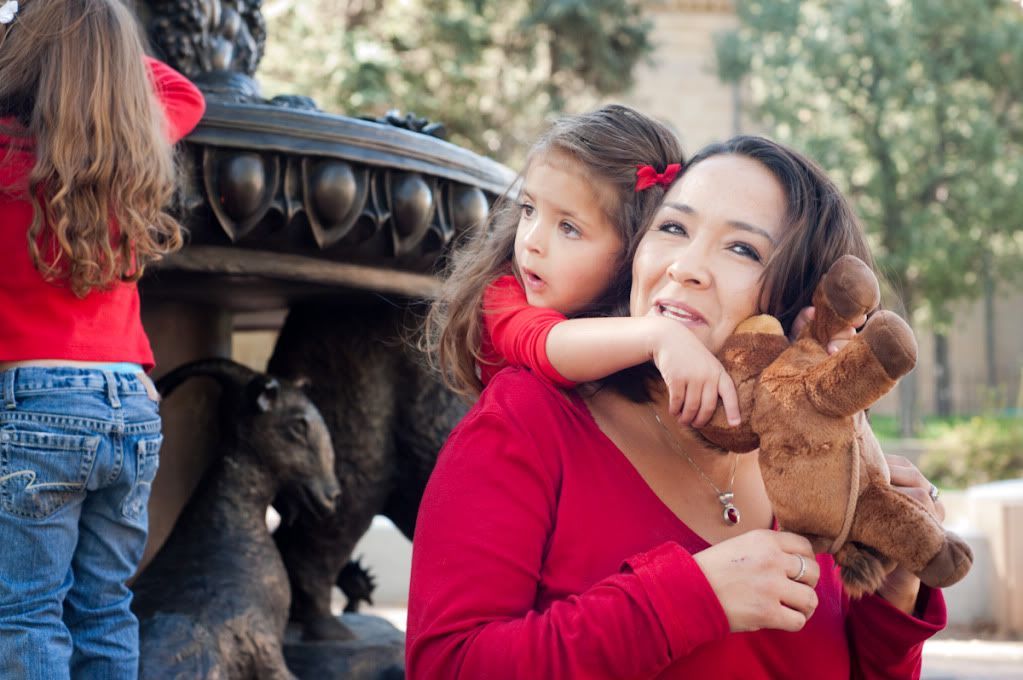 Here Maya is saying something like, "Come on girls, come sit on my lap. Let's take a picture." Notice neither one is the slightest bit interested in me, or looking at my camera.
Peeking at me from behind a statue of a donkey. I had to make a reference to Shrek. Yes, I found out that they love Donkey too.
Okay, this one decided to look at me for a split second here before she tore off across the lawn (oh, and just so you know, I try not to mention children's names on my blog for their safety, I'm being vague on purpose).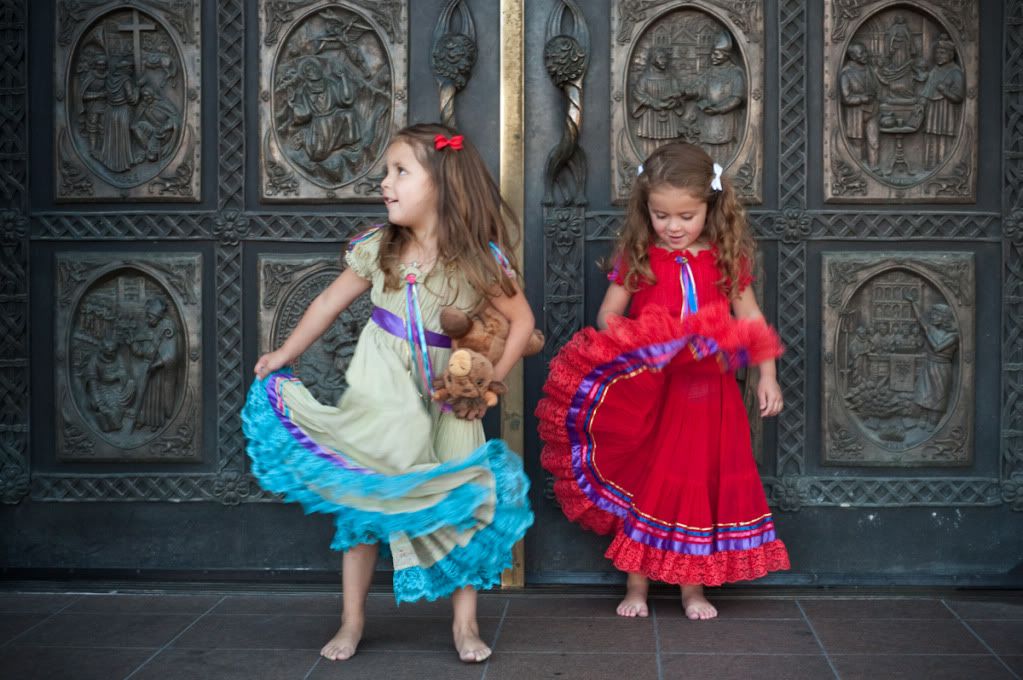 The girls got amazing dresses from their grandma. Maya and I begged them to twirl for us. Here is a quick swish of the skirts.
Here is one single twirl.
Then they were off, as you can see, literally running away from me. Which I will admit, had me delighted. It was so fun to be reminded of three year old twin antics. Absolutely adorable, lovable and free spirited. Our twin boys are nine years old now. So Maya and I have the twin connection.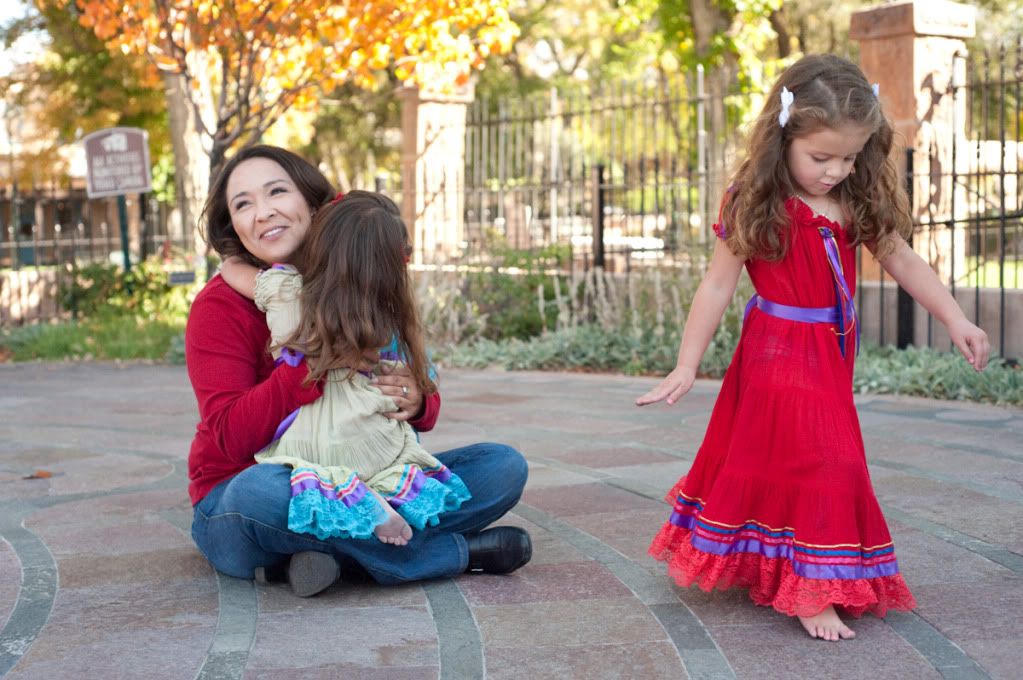 After letting them run around and around and around, we tried for another nice portrait. Once again asking them to look at me, "come on, look at me, look at the camera." Nope.
This is what they would do. Completely maul their mother. Not just maul, pummel. Three year olds are like lion cubs.
Then it was time to climb on her like a chimpanzee.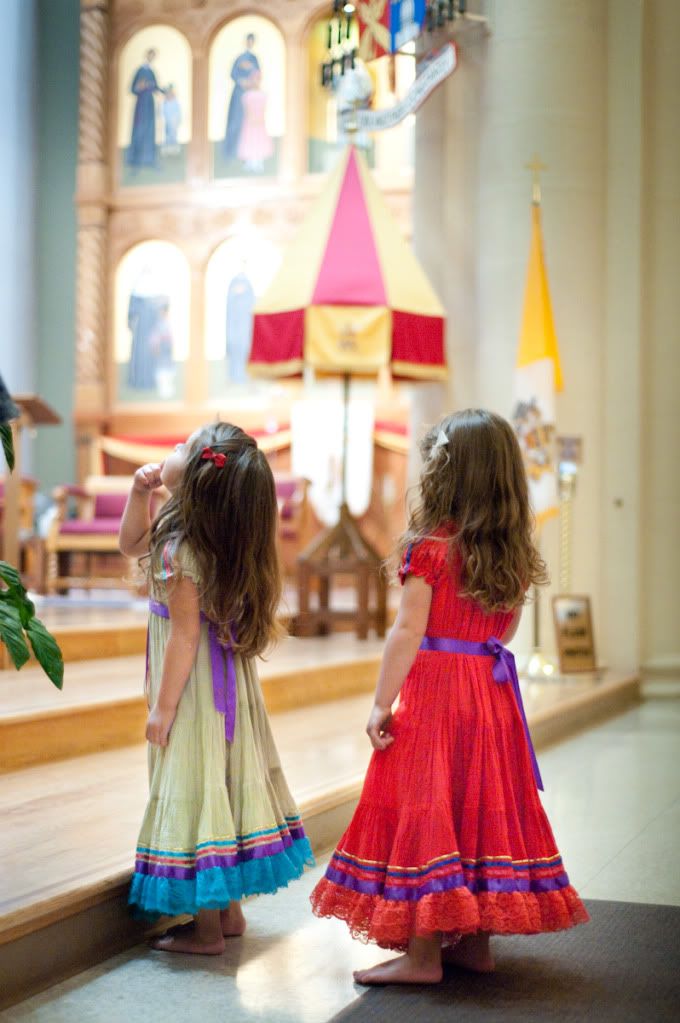 At the end of the session we went inside the Cathedral. We had been shooting outside of
St Francis Cathedral Basilica
in Santa Fe, New Mexico. When we were inside the church they were completely silent,
quiet
as mice
.
It was so cute I could hardly stand it.
After all that, I'm happy to announce that we did get several beautiful portraits that will be perfect for that Christmas card. Maya, I will create your on-line gallery soon and let you know when it is live.